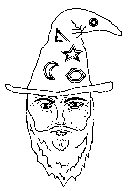 The Data Magician
Data Conversion Program
---
Program Information
When you need to move information between different database systems, or perform sophisticated manipulations of the data within a single system, you need The Data Magician.

The Data Magician provides an easy way to transfer data between various database, text-base and library automation systems. It has the power and flexibility to manipulate the contents of fields while transforming the actual format of the file. It performs magic on your data!
---
Flexible Input:
The Data Magician accepts data in a variety of file formats from a multitude of sources. Sources include:
MARC Communication format: OCLC, RLIN, UTLAS and most library automation systems.
ASCII delimited: Pro-Cite, PC-File and most database systems.
Tagged files: online services and CD-ROMs including Dialog, BRS, MEDLINE, Infomart, and others.
DBASE II, III, or IV files, including Memo fields.
INMAGIC/DBText dump files.
Library Master tagged files.
Cuadra's STAR.
Micro CDS/ISIS.
BookWhere Z39.50 client.
---
Flexible Output:
Regardless of the format of the input data, The Data Magician can transfer your data into any of the following formats:
MARC Communication format: most library automation systems.
ASCII delimited: can be read by most database systems.
INMAGIC/DBText and STAR dump files.
Library Master tagged files.
Micro CDS/ISIS.
---
Magical Data Transformations:
While it converts the file format, The Data Magician transforms your data in the ways you specify:
Break fields apart and separate subfields.
Join fields together.
Perform wildcard substitutions.
Convert upper to upper/lower case.
Convert date formats.
Strip excess spaces and punctuation.
---
Powerful Data Conversion Capabilities:
Use any combination of input and output file formats.
Specify which output field to use for each input field.
Combine fields, add text, or break fields apart in a variety of ways.
Search and replace globally or in specific fields with sophisticated wildcard options.
Substitute values through look-up tables.
Convert letter case to uppercase or lowercase, capitalize first word or all words.
Automatically number new records.
Convert date format. For example, convert 12/31/94 to Dec. 31, 1994.
Break up Library of Congress call numbers. Convert "QA76.7.A14" to "QA 76.7 .A14".
Specify conditional processing of fields and records.
Built-in data conversion language enables flexible data changes.
Perform batch conversions from the command line or use menus.
Convert one record at a time to check your settings or convert the whole file at once.
Provides estimated time of completion.
Online context-sensitive help guides you through all prompts and error messages.
Numerous sample conversion settings are already set-up.
---
Ready to Transfer Your Important Information:
The Data Magician helps users around the world with many kinds of data conversion projects. Some examples include:
Load records from non-MARC database programs (DBASE III, INMAGIC, Library Master, Pro-Cite) into MARC-based library automation systems (Columbia Library System, Dynix, MultiLis).
Transfer records downloaded from online and CD-ROM databases (with permission) into text-base systems (Library Master, INMAGIC, Pro-Cite, STAR, EdiBase).
Load MARC records (UTLAS, OCLC, BiblioFile, LaserQuest, Dobis, RLIN, WLN) into non-MARC library database systems (Library Master, INMAGIC, DBASE, Paradox, EdiBase).
Transfer records between traditional database and spreadsheet systems (DBASE, Paradox, PC-FILE, Smart, Lotus 123) and text-base systems (INMAGIC, Library Master, EdiBase, Pro-Cite, STAR).
Transfer the search results of hundreds of Internet online library catalogs to other database programs. Use BookWhere Professional to search the catalogs on the Internet and then convert the MARC records to another database format with The Data Magician.
One organization moved data files (from Bucat, Dynix, Eloquent Librarian, DBASE, and Microsoft Word) from 22 colleges and universities and created a union catalogue in INMAGIC, then converted it into MARC!
---
System Requirements:
IBM PC or compatible microcomputer
512K memory
One floppy disk drive for small conversions. A hard disk is recommended
MS-DOS 2.0 or higher. Microsoft Windows compatible. For 64 bit versions of Windows, you will need to run the program in a virtual machine, such as Windows XP Mode or VMWare. Both options are available free.
---
Demonstration Program
The demonstration program has all of the features of the full version, except that it converts only the first 10 records of a file.

You can

request a free demonstration copy of The Data Magician with an electronic manual.
Folland Software Services
Sales and Support: support at folland.com
---
Copyright © 2021 Folland Software Services
Data Magician is a trademark of Folland Software Services
Last updated 2021-03-31